Location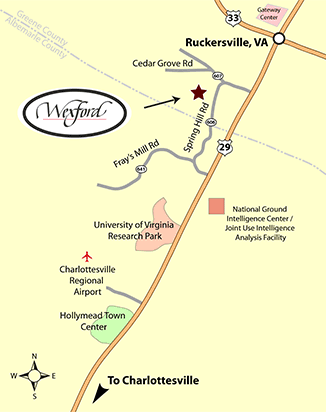 Wexford Community Map (click map to enlarge)
This map is for illustrative purposes and is not to scale.
Wexford is where community and convenience come together. 
Wexford's convenient location just north of Charlottesville and just south of Ruckersville makes this neighborhood special and distinguishes it from others on the market today.  Also, many employers are located nearby, such as the U.S. Army's National Ground Intelligence Center (NGIC) and the new Defense Intelligence Agency's (DIA's) Joint Use Intelligence Analysis Facility.  Wexford is also close to the University of Virginia's Research Park, the Charlottesville – Albemarle Regional Airport, Hollymead Town Center, the Gateway Center, and much more.  While you are moments from the U.S. Route 29 corridor and convenient to work, shopping, and restaurants, you feel as if you are miles away when you turn down Wexford Ridge Road.