Vision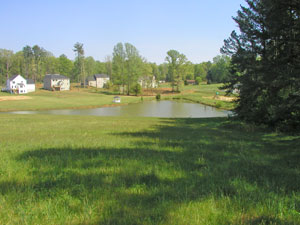 The pond at Wexford
With the picturesque rural surroundings of southern Greene County and panoramic views of the Blue Ridge Mountains, Wexford has a natural and peaceful setting.  Wexford maintains a harmonious relationship between structures, topography, and nature. 
There are both recreational amenities and open space convenient to each home site.  These include a fishing pond, gazebo, playground, and multi-use recreation area.
To preserve and enhance property values, the neighborhood will be managed by a Home Owner's Association (HOA).  Additionally, the Landscape and Architectural Control Board will ensure a consistent level of quality throughout the community. 
A primary Wexford design goal was to minimize manmade impact to the environment and utilize Low Impact Development (LID) methods.  Each Wexford home site will have a rain garden designed to filter out pollutants and excess nutrients found in rain water and runoff.  These rain gardens will allow ground water to recharge naturally and minimize nutrient pollution in downstream rivers and streams.